Private Prisons for Immigrant Families Grow Despite Court Ruling Against "Detention as Deterrence"
Posted by

feeds-importer

on

Wednesday, 25 March 2015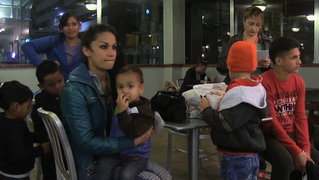 The Obama administration continues to expand its controversial practice of detaining mothers and their children despite a judge's order that using it to deter mass migration is illegal. Starting last summer, thousands of Central American women with kids as young as a few months old crossed into the United States seeking asylum. Even though many were later found to have a "credible fear" of violent persecution, they found themselves rounded up and put into detention, with little chance for freedom until they were deported. But last month, a federal judge ordered immigration authorities to begin releasing the women and children. He found the Obama administration's policy of detaining them in order to deter others from coming was illegal. Since then, more families have been granted bond and released, while others who are unable to afford the bonds remain locked up. They are held at one of two new family detention centers run by private prison companies in southern Texas. We air an on-the-ground report from Texas by Democracy Now! producer Renée Feltz, who speaks to a recently released mother and her son. We are also joined by Barbara Hines, former director of the Immigration Clinic at the University of Texas Law School. Hines' affidavit in a lawsuit challenging detention of women and children as a method of deterrence to mass migration was cited by the federal judge in his order to halt the practice.
Click here to watch Part 2 of this discussion.